Thu,
03/31/2022 – 14:50pm | By: Josh Stricklin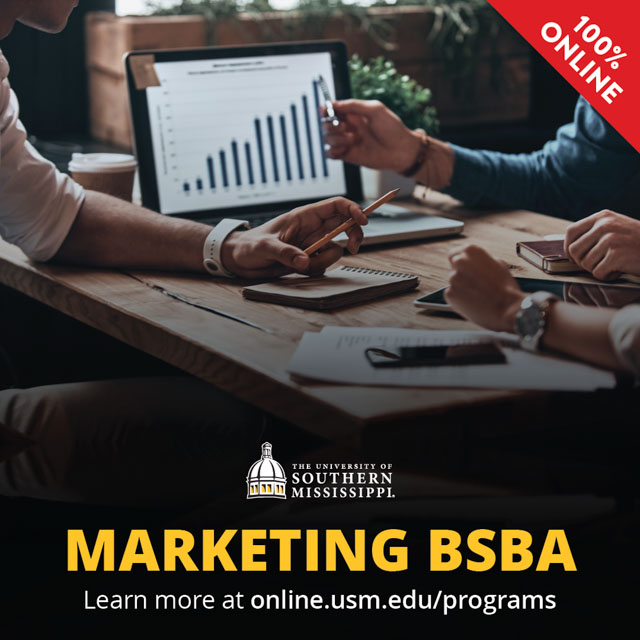 The University of Southern Mississippi (USM) is adding the Marketing BSBA to its expanding
catalog of online programs. With the addition of the marketing degree, online students
will have the chance to explore new facets of the business sector. 
"The marketing umbrella is diverse, and students have a variety of career choices
upon graduation," says Dr. Melinda McLelland, Marketing Program Coordinator of the
School of Marketing. "Our program exposes students to these options while providing
a solid foundation to create a well-rounded and versatile candidate for the job market."
The program focuses on applied learning, so students are introduced to many ways to
gain authentic, hands-on experience and build their marketing knowledge. The curriculum
involves a variety of opportunities, including:
Working with a client
Developing a marketing plan
Completing an internship
Studying abroad
Creating marketing materials 
Leading a student group
Earning a star in our Tri-Star program
The degree in marketing at USM prepares students for a wide range of careers spanning
sales, marketing research, and social media content/strategy. For example, students
can pursue marketing management careers in branding, communications, logistics, and
other high-demand areas. Dr. Jamye Foster, Director of the School of Marketing notes,
"Regardless of the area in which our students go, they should all have some tangible
experience to add to their resume and/or materials to add to their portfolios upon
graduation."
"The Marketing BSBA is another way for business-minded students to get into their
ideal careers," says Dr. Tom Hutchinson, Dean of Online Learning and Enrollment. "Our
online programs are equally as challenging and effective as face-to-face programs,
so students will experience an added bonus of utilizing the online platform they will
likely see in their future careers."
"The marketing faculty desire to connect with the students and provide a positive
learning experience for all students," Dr. McLelland says. "Our goal is to educate
students and provide them the opportunities to build their resume to find the job
that will match their life goals. This program will be best for students who truly
want to be challenged to learn as much as possible and develop the skills to be successful
in the marketplace. Dedication to learning is key for students to be successful in
this online program."
The online Marketing BSBA degree is designed to help students achieve everything they
can in their careers. This program admits students during the fall, spring, and summer
semesters, and with the online delivery, students can finish school with the business
world at their fingertips. Students looking to grow their marketing knowledge and
skills should visit the online Marketing BSBA site.
https://www.usm.edu/news/2022/release/marketing-online.php