At the end of 2021, I embarked on my first business trip in almost two years. After going from almost having my suitcase packed more often than unpacked, it was revitalizing to dust off my airline loyalty card again. The trip passed with no hiccups.
Almost. I anxiously took my PCR test before my return flight. Negative, thankfully. Then, when I uploaded my documents, my test was rejected. I re-read the certificate.
Date of birth: fine. Name: Paula Barron. Paula?! Not good. Luckily, thanks to the travel app noticing before arriving at the airport, I had time to get everything sorted. A little stressful for my liking…
Whilst this story may sound foreign for some, for others, it's more familiar. With 75% of travel management companies expecting business travel volume to be much or somewhat higher this year, it's likely that more and more of us will have our first taste of business travel in the coming months. 
But the question on our minds is how will it return?  
When leisure demand started its return throughout 2020 and 2021, Amadeus identified several important behavioral changes. For example, booking lead times reduced, with over 60% of bookings made within one week of arrival at the height of the pandemic in 2020.
Today, whilst this number has reduced, our business intelligence data continues to show a preference for last-minute bookings across many markets globally.  
Now, as business travel returns, Amadeus has combined industry research with our market insights to understand what trends are already emerging for this segment, and what implications this has on the hospitality industry:
1. Despite nerves, there is a growing desire to travel
There remain a lot of uncertainties around the pandemic, but one thing is for sure. We're all eager to get back out there. In fact, over 75% of travelers are hoping to take a trip in 2022.
When it comes to business travelers, several research reports have confirmed that employees still value face-to-face interaction. As Elie Maalouf, CEO for Americas at IHG Hotels & Resorts, puts it: "There are people who can't deliver their work on Zoom."
Amadeus' Agency360 booking data echoes this theme, with the healthcare, professional services and aerospace and defense sectors ranking as the top bookers currently for travel sellers.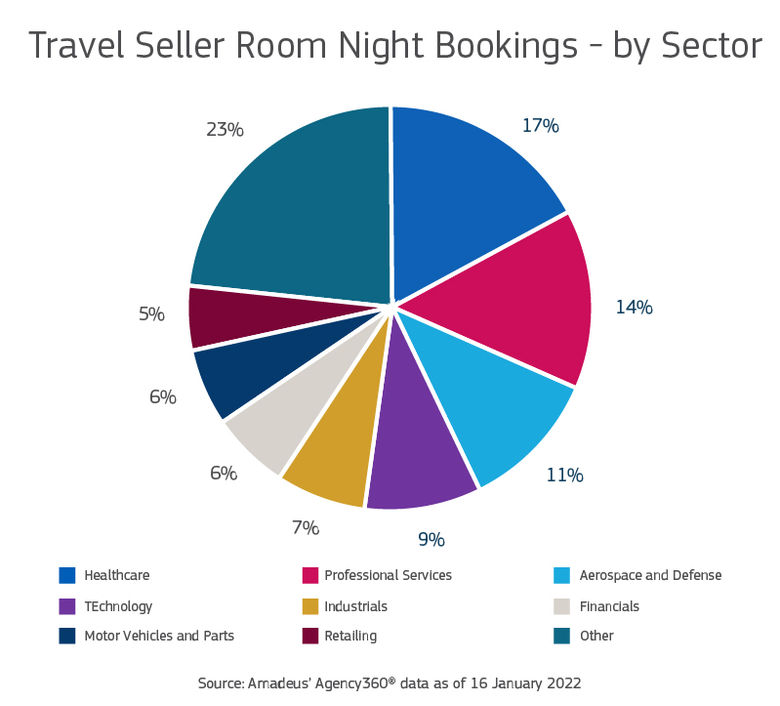 Despite this positivity, both leisure and business travelers are still nervous. Our research found that 92% of TMCs see clear information around health and safety prior to traveling as top priority for business travelers.
The good news is that technology can play a valuable role here. Throughout my first trip I was more dependent than ever on maintaining regular contact with my assistant to confirm which tests to take or forms to complete.
Travelers, both for leisure and business, also have newer technology at their disposal that has been created exactly for these purposes. For example, without apps like Amadeus Traveler ID, I would not have known there was an error in my test certificate and risked being denied boarding.
This experience has made me a customer for life! Similarly, services like Travel Protection have evolved during the pandemic to help ease these new concerns. Companies, including Amadeus, now offer more flexible types of protection for when unexpected changes arise.
For hoteliers, these additional add-ons can go a long way in increasing guest satisfaction, whilst also offering new opportunities to generate revenue.  
2. Less frequent, longer stays
Prior to the pandemic, "bleisure" travel typically meant extending your trip by a day or two, with family or friends potentially joining for the end portion.
Today, it has evolved into something more, with many now using the term "workcation"; referring to longer trips that combine meetings, events or remote working and a few days of leisure travel. Globally, one in three business travelers hope to add a leisure element to at least one trip in 2022.
And BCD Travel's research found that 85% of workers are looking for a mix of remote and office work in the future.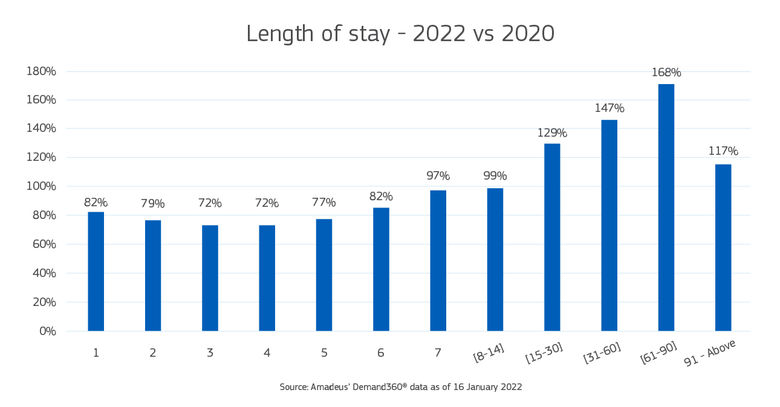 If we compare length of stay between 2022 and 2020 using Amadeus Demand360 data, we can confirm that length of stay has increased for stays of seven days or more globally, with the biggest change coming from trips of between 61-90 days.
I've had several conversations with colleagues who have gone on business trips since the pandemic. For many, the added effort of testing and forms is encouragement enough to extend trips. And for those that didn't extend the trip, their top feedback upon returning is that they wish they had.  
 
Earlier in the pandemic, we already saw the introduction of several work-related packages on offer from major hotel chains like Accor and Marriott. Today, this remains an attractive new audience for hoteliers to target.
Successful hotels will need to strike a balance between offering the facilities that make it easy to work remotely (free Wi-Fi, a workstation) and the home comforts that might sway a traveler to otherwise book alternative accommodation.
3. Cost-conscious becomes eco-conscious
Despite a growing demand for travel, the reality is that many companies are still facing reduced budgets when it comes to business travel and events.
Over half of TMCs consider spend control to be an evolving need or expectation for travel clients, according to Amadeus research. However, in light of the quickly changing nature of the pandemic, 75% of CFOs are focused on being more flexible when it comes to budgets and forecasting this year.   
On top of this, we cannot forget about the big, green elephant in the room. Recent Amadeus research found that two-thirds of travelers see sustainable travel as a priority, and more and more corporations are requesting sustainable services when traveling.
I believe the implication of this might be companies evaluating travel based also on environmental impact, rather than only on monetary value.   
4. Regular communication remains key 
Since the onset of the pandemic, we all remarked on an increase in the number of communications from companies. We moved through messages of support, flexibility, safety, excitement – and more.
Today, though we may no longer need messages after every touchpoint or interaction, there are some forms of communication that remain important. For business travelers, 65% of TMCs believe regular communication throughout their journey is priority. Hoteliers, take note.  
A typical business trip agenda doesn't allow for much flexibility, so avoid unexpected surprises and make it easy for travelers to know what to anticipate when arriving, whether it's reduced facilities, or the need to book breakfast.
Do this via different channels to cover all the touchpoints where a traveler may interact with your property or brand: on the GDS, your website, social media pre-stay via email, and on-trip through staff, follow-up emails or message services. This is particularly important if your hotel continues to be affected by staff shortages that may influence a traveler's overall experience.
5. Events are coming back, though smaller than before
I've spoken a lot about how business travel is taking place. But what is happening during these trips?
Amadeus MeetingBroker data confirms that, on average, the size of group bookings has reduced as a result of the pandemic. For example, 51% of events in 2021 were for groups less than 50, up from just 17% in 2019.
This supports the forecast that the top three types of events predicted to experience growth in 2022 are: internal team meetings/trainings, smaller meetings and client or customer advisory boards.  
For hoteliers, this provides some interesting opportunities this year. If your property currently offers larger meeting spaces, consider if you can break this down into smaller spaces to offer to several groups at once.
And for properties with no event space, there's still time to look at whether you can create some. For example, common areas, an outdoor courtyard, or a large suite could be the perfect space to support a small team, in a COVID-19 compliant setting.
Find out more…
To discover more insights around the return of travel, visit our Rebuild Travel page. You'll find a selection of complimentary resources to help drive more profitable demand, generate loyalty and guest engagement, and increase operational efficiency.
https://www.phocuswire.com/2022-business-traveler